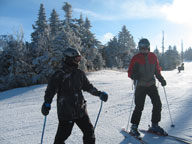 All is right with the ski world again. Ruts and The Bagel have returned to Killington for the 2014-2015 ski season.

Ruts and The Bagel were founding members of the now defunct 80's ski club, "Suck You Inn" formerly located on West Hill Road in Killington. Ruts and The Bagel have been regular skiers at Killington for 30 or so years. (Rut's did turn to the dark side and shredded the slopes for about 10 years.. but we do not hold that against him.)

Our ski excursion today could be characterized as crisp. Conditions were very mid-winter with 9:00 AM starting gun temperatures in the low 20s. After a few obligatory turns in the North Ridge area so Ruts and The Bagel could regain their ski legs, we dove right into it with a pass straight down East Falls on our way to Superstar.
Conditions in the North Ridge area were primarily packed powder surfaces that were firm yet snow covered. The contidions in North Ridge look like the resort is resufacing the terrain (ie making fresh snow) regularily to improve the base. East Falls was your basic GS glacier. While ice was not visible from a litteral sense, the absense of sunshine and the smooth flat surface brought home the fact that on some ski trails gravity is really in charge. A friend who has since passed into the beyond used to say "Point em downhill you chicken sh!t". They were words to live by on East Falls as the surface was firm enough that turning did not make much of a difference.

After an uneventful run out from the borrom of East Falls, we did a few laps on the Superstar Quad. The Resort was busy at work making snow on the lower reaches of Superstar. A lone snow maker was going from snow gun to snow gun makeing adjustments to fine tune the final end product. It will require a few more sessions before Lower Superstar will see skier and rider traffic (unless, of course, Mother Nature intervenes with a snow storm).

From the Superstar Quad, the resort was skiing Upper and Middle Superstar, top to bottom Bittersweet, and top to bottom Sky Lark. Conditions were very different depending upon which trail you decided to pick.

The Superstar Headwall was interesting. There is probably barely enough snow covering the headwall, given the severity of the angles involved in skiing down it. What is usually a consistent, yet steep, pitch in mid winter had several spots where the slope seemed to go vertical. The Superstar headwall snow was relatively soft and carveable, so after a few quick turns, you were down the bottom, facing a series of choices.

Middle Superstar was the obvious choice. It was a solid carpet of golf ball sized ice chunks, most likely the remnants of several attempts to groom the candy coating which blanketed the Killington region on Tuesday and Wednesday. With nods to both my dentist and orthopedist, the fillings in my teeth and my left knee held together on the ride down to the Sky Lark cutoff. A thrill ride perhaps. Fun... well so it goes...

Sky Lark was a tale of 2 trails. Upper Sky Lark appears to have seen recent snow making. Surfaces were relatively flat and fast, but there was a great amount of soft, pliable, snow to be found, especially once your ventured outside of the straight middle of the trail. Lower Sky Lark had many of the same qualities as Middle Superstar, however, once again it seemed like there was some additional snow mixed in as the vibrations were no where near a severe as those experienced elsewhere.

BitterSweet was you basic flat and fast. Skier and Rider traffic had broken up any vestigal remnants of grooming leaving a granular covered surface on a solid base. Like Sky Lark, there were plenty of opportunities to make nice carving turns. Skier traffic was somewhat heavier on Bittersweet as it is percieved to be "easier" than Sky Lark. But we are still talking early season so comments about skier traffic are somewhat laughable.

Overall, today was a good excursion on the mountain, testing my new skis on varied terrain with varied mid-winter conditions. Killington sent out their Drift newsletter today talking about terrain expansion... I'm ready... let's make it happen!

Let it snow!