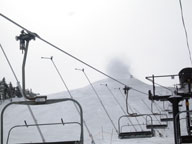 It has to be seen to be believed. A virtual volcano has been created at the top of Skye Peak at the head of the Superstar Trail. Instead of hot lava, the volcano is thrusting snow into the atmosphere; creating in its wake a huge mound of white goodness which will assure a very long ski season at Killington.

In what has become a weekly occurance, the Killington Resort has once again fired up the snow making system to continue to blanket the Superstar ski pod with more snow. Snow making operations were being conducted today on Lower Superstar, at the top of Skye Peak (including the Snow Volcano) and through middle Skye Lark. Snow making had clearly taken place over the last couple of evenings on Bittersweet from top to bottom, as snow whales are starting to appear along the lenght of the trail. All this snow making activity this late in the season, on top of all of the snow that Mother Nature has provided, is truly impressive. There should be no doubt that the Killington Resort is planning to operate long into the spring with the amount of snow that has been stockpiled around the resort.

Today was a relatively long day on the resort, with many high speed top to bottom runs. "Googlers" were in abundance at the resort. (Killington is playing host to a large group of people from Google as they take a break from virtual space to play a day (or 2) in the outside.) But even with the extra crowds(for a mid-week day), we really did not wait in any lift lines.

We started with our usual route off of KPeak to Bear Mountain. Bear Claw was firm with a soft 2 inch layer of powder to receive the edges of our skiis. Lower Skye Burst and Lower Dream Maker were soft and pliable, the result of temperatures slightly rising into the lower 20's causing the surface to loosen up slightly. (It is funny to think that the lower 20's is warm, but in comparison to the minus numbers of last week it really is. It is all relative.)
Skye Burst, Wild Fire and the Stash were all skiing beautifully. There was a collection of snow making guns operating on Stash Way which created some very interesting terrain features (read 3 foot vertical drops) The drops were actually quite fun leading into the Stash, but since less experienced skiers and riders also take that trail, I am not sure that the new "features" would be appreciated by everyone.

Coming back around the mountain, Cruise Control was a high speed run down a wide open groomer. Needles Eye was closed for racing, unfortunately, so we did not hang around to loop the Skye Ship, heading instead to do loops off the Superstar Quad. Bittersweet was soft and wonderful. Recent snow making left it covered with small to medium sized soft whales of snow, which were great to turn over. Superstar was great. Upper and Middle Superstar were firm with a couple of inch coating of soft snow. Lower Superstar was a solid do-over. The snow guns have left lower Superstar covered in deep creamy powder, similar in consistency to talcum powder. Lots of fun riding the snow making whales and the small bumps being created by skiers and riders enjoying the trail.

Moveing further north, we made multiple loops off of the K1 Gondola. FIS off the peak was loaded with nice well spaced bumps which I raced right through. Rime and Reason were in beautiful shape with loose machine packed powder. Ridge Run (formerly West Glade) was filled with soft 2 to 3 foot bumps. I just pounded my first run down it non-stop. I found a great line and just kept going. Mary saw me do it looking back from Great Northern so she decided to join me on my second run through. She held her own through the bumps, but did not enjoy them quite as much as I did.

We finished the day quite unexpectently with 2 beautiful runs down Highline. A mogul competition was taking place on the mogul field set up by the Killington Mountain School on skiers right. But the trail itself was wide open for skiers and riders to enjoy. Because it is usually closed for race training, there was virtually no skier traffic on it when we hit it at 1 PM. We had 2 very high speed, wide turn, edge to edge runs on what was virtually untracked groomed corduroy. We would expect to find that at 9:00 AM... but to find it at 1 PM after hitting bumps for the last 45 minutes was a real gift for our last runs of the day.

Like a little kid, I can't wait to get out on the slopes again tomorrow!

Let it snow!