Tuesday, Jan 17, 2012
Interesting ski day at Killington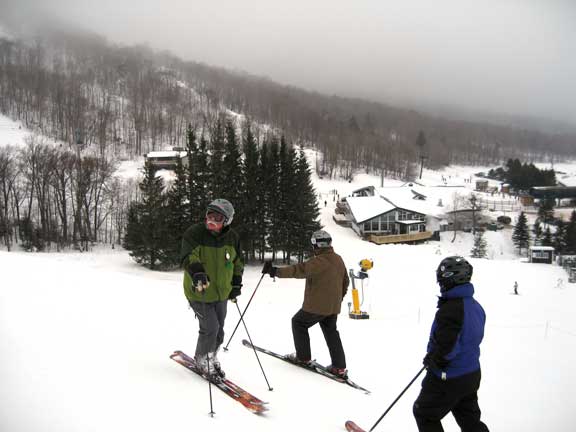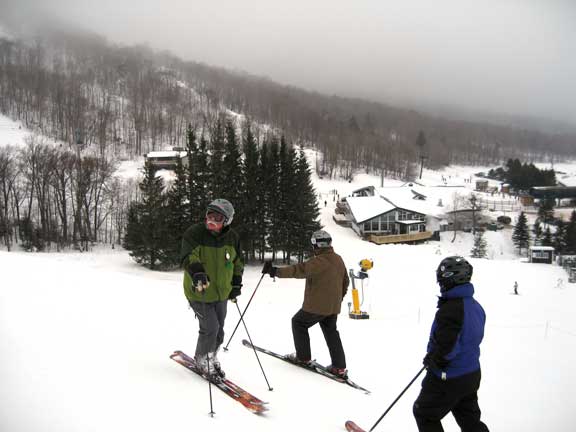 Well...maybe it was more like a ski hour and a half instead of a whole day... but it was interesting all the same.

There was an element of foreboding driving to the resort this morning. Clouds were hanging low over the resort. The weatherman on the radio was talking about a wet storm front passing through the area this afternoon. The parking lots at the resort were virtually empty; the product of the timed escape of visitors to the area for MLK weekend, escaping back to the real world away from the mountains.

But the gang, and then some, was in the base lodge, in their "assigned spots" ready to face what ever Mother Nature, the Resort, and last night grooming team had to offer.

With the low clouds hanging over the resort, we headed towards the Superstar Quad, figuring visibility would make skiing improbable off the K1 Gondola. (We later learned from others we encountered on the slopes that we probably made the right choice in the early morning, as Killington Peak was totally socked in.) Skye Peak had its share of low lying clouds. The traverse across the peak from the K1 to Skylark focused us all on paying attention fairly quickly. Skiing was basically by feel alone. But so it goes.

It was not a long morning on the slopes. We did Superstar, Sky Lark, Bittersweet, Cruise Control, Bitter Road and Sky Cruise. Upper surfaces were frozen corduroy, the product of the clouds laying down moisture into the snow surface. Lower surfaces were generally soft. Coverage was good, with the possible exception of a ledge outcropping here and there that had been uncovered by grooming crews the last couple of days. When the cloud deck was above the trail, every trail we skied was a groomed cruiser. When the cloud was on the deck, the grooming did not matter. Little dips and swhales became troughs and bumps when you could not see them.

After an hour and a half of skiing the same terrain over and over, Howie called "Johnny Boys" and the ski day came to an end. Over a Belgian Waffle and a cup of tea, we all traded stories of ski greatness, preparing ourselves to head out on the slopes for another day in the very near future.

Let it snow!!!