Thursday, Jan 19, 2012
Flat and fast at Killington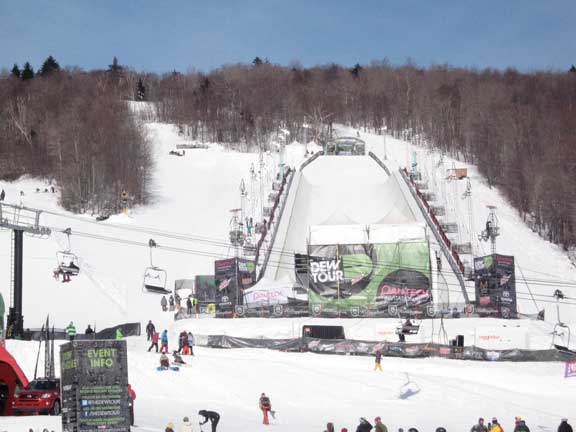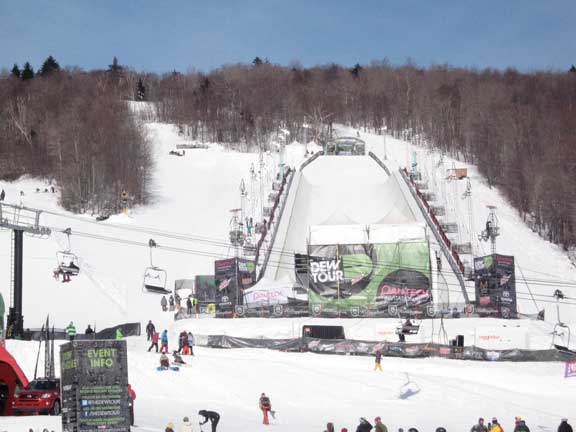 "it's not ice if there are no fish under it" - F.I.S and Birch Ridge Inn Bartender - Merisa....

There were no shades of blue or green visible today, except in the perfect azure sky. But that did not mean that the ski surface presented on the mountains today was beautiful soft powder. We should be that lucky.

Wednesdays brief warm up provided an opportunity for ski surfaces to experience a mid January softening. Wednesday nights sub-zero temperatures, locked the trails up tight. While Killingtons fleet of groomers tried to modify the terrain, and you did not want to be on a trail that was not groomed today, all they could do was create mere scratches in the hardpack allowing the sun to reflect off of faceted surfaces, instead of a shiny mirror.

With a great pair of edges on my skis, it really was not half bad today.

We started the day meeting some friends in the Vale parking lot at 10:00 AM. After boosting up Rams Head, sliding down Caper, boosting up Snowden, and sliding down Killink, we took the North Ridge Chair and traversed across the resort on Launch Pad. Our ultimate destination was Bear Mountain to see the final preparations for this weekends Dew Tour.

Instead of traversing to Wildfire, we headed to Cruise Control and Bearly. Both had been groomed well and were covered with a loose frozen granular. As we were flying low, all I could think of was walking these same trails in the summer months. A distance that was a 2 hour hike in the summer, was no more than 5 minutes on skis as we cruised down to Bear Mountain.

At Bear Mountain, the preparations for the Dew Tour are impressive. The Superpipe is gigantic. The mounds on the lower part of the freestyle course, the only part of the course visible from the Skyburst chair, are huge. It is just incredible how much snow the resort has made at Bear Mountain for this weekends event.

After a quick lift up the Sky Peak Quad, we took Sky Burst down to lower Wildfire for a hot chocolate in the Bear Mountain Base Lodge. Sky Burst was more of the same frozen granular, but lower Wildfire had snow -- glorious snow... The product of operating snow guns draping the area in a fine white powder in the low teen temperatures. In addition to Wildfire, snow making was also taking place in the Stash. While the Stash was not open, we did hear from some "poachers" that the man-made base depths in that area are huge. I am guessing that the resort will try to open the Stash for this weekend... but you never know.

After a warm up in the base lodge, we did several loops on Cruise Control, Bitter Sweet, Sky Lark, and High Road, before finishing our morning on Superstar. If you enjoy 'Super G" skiing, today was your day. I was a little bored, until we hit some more soft snow under the snow guns on Superstar.

Overall the mountain was in a finely manicured state. The candy coating on the trails created by Mother Nature with a little assist from the snowmaking and groomer crews, will provide hours of entertainment for the assembled masses that will visit Killington this weekend. Just make sure to bring your edges... you will be glad you did!

Let it snow!!!