Monday, Jan 23, 2012
Into the cloud at Killington.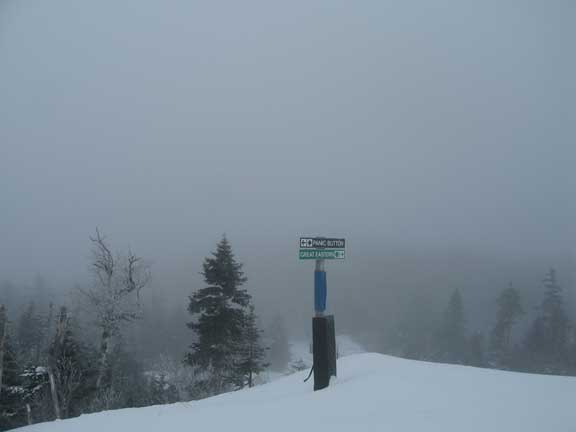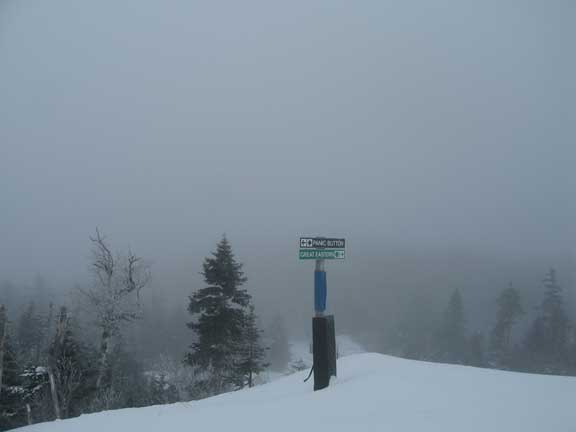 After a beautiful, bright, sunny Sunday that had our day dominated by work in the morning and football in the afternoon, Mary and I had a chance to get out on the mountain for a few turns today. One of the buzz phrases of the early 21st Century - "Into the Cloud" best describes today. On many trails, you virtually could have been anywhere. Trees were outlined in the distance, gravity was pulling everything down hill, vertigo was trying to make everything seem uphill. Just a perfect day to ski at Killington if you enjoy almost 0:0 visibility on trail sections over 3000 feet.

But a day on skis, even in the cloud, sure beats a day at the office.

Because of the cloud, we kept off of Killington Peak today. We started at Bear Mountain on Bear Claw, followed by loops on Wildfire. Both were nicely groomed and covered with soft snow. The Sky Peak quad was not running again today. In its place, the resort "Officially" re-opened the Snow Shed Crossover trail with the tuna nets used to block the trail removed, the trail groomed, and signs posted to remind people of the way. A very smart move on the resorts part, and since there were minimal guests at the resort today, the downside risk of collisions on crossover trails was very low.

Cruise Control was groomed edge to edge and nicely soft. A light glaze was falling from the sky and adhering to our goggles. Not sure if it was a light drizzle, or just the cloud, but it did require occasional stops to clear ice off goggles and other eyewear.

Today was our first official foray down Great Eastern to the Skyship base on Route 4. We thought that we would stay low on the resort to stay out of the cloud, so the trip down to Route 4 seemed like a natural. The resort has spent a lot of time making snow along Great Eastern and it shows. It was a good, long, run to air out the ski legs.

Upon our return, we went down Needles Eye, Bitter Sweet, High Road, Sky Lark and Superstar. Needles Eye was about 70% in the cloud; it's broad boulevard seemed to capture it. Many times down the trail there was the weird experience of vertigo induced zero gravity, as one skied over bumps in the snow with absolutely no visual clues. Needles Eye when we were on it was not a do over... which was too bad because the snow was great.

Bitter Sweet, Sky Lark and Upper Superstar were similar to Needles Eye, although as their aspect ratio relative to north south was more north than Needles, the cloud cover was not quite as thick.

The finish was on Super Star. Middle was great, although cloud covered. Lower had this strange mix of newly made snow, courtesy of Killington's Snow Making system, lifting clouds, and light something falling from the sky. It was not quite icy, though it was not soft either. Once it gets hit with a groom or 2, I am sure it will soften up and bump out appropriately. But, when combined with todays atmospherics, it was just a strange surface to end on for a strange day in the clouds at Killington.

Let it snow!!!