Wednesday, Jan 25, 2012
Flat and Fast! Low energy ski day at Killington
In the words of my friend, Billy Mac, "point em down hill you chicken @#!t". Today was a very flat and fast day at Killington. It was one of those days where you pointed the skis down hill and voila - instant Super G racer!

The weather leading into today has continued to be interesting at Killington. Monday night saw some freezing r@!n which wonderfully crystalized on all of the sand and salt deposits on our cars in the parking lot. When the precipitation turned to pure NCP, the cars were rinsed by Mother Nature just like at a fine car wash. Tuesday morning, they were beautifully clean and shiny. Oops... so was the parking lot!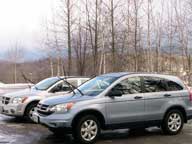 Really clean cars with upswept windshield wipers...not a good sight in a ski town!
Click to enlarge..
Tuesday was a planned work day around the inn, so it did not matter much. Temperatures on Tuesday fell from the 40's in the early morning, to the low teens at night. Along the way, the sky decided to shed some moisture in the form of a light, fluffy, snow; setting up a proverbial 'Dust on Crust' scenario for our Wednesday morning foray out on the mountain; or at least we thought!

When we arrived at the mountain this morning at 9:00 AM, snow guns were covering Highline, and various other areas around Killington's K1 base lodge. The atmosphere still was moist, with a low cloud hanging over Killington Peak. Our expectations were low, but hey... going skiing for us in Killington is like going for a jog in the park if we lived in the city... so we were ready to give it a go. No shame in "One and Done" if it came to that... we live here...right!

We headed out on the Superstar chair, hoping to stay under the cloud draping Killington peak. Superstar looked nasty in spots. The upper headwall was closed. Based upon the visible ice flows on it, it will take several passes with teams of "winch cats" before it gets back into business. Never matter, our plan was to stay low and strike out on the back side of the resort to Bear Mountain, as we usually do on cloudy days.

The run to Bear on Gateway was a simple, fast, cruiser. Gateway had been perfectly groomed. The base was very firm, but the surface was very compliant to our ski's razor sharp edges. In no time we were standing at the top of Bear Claw ready to take on the day.

Upper Bear Claw was ok. Unlike Gateway, there was a visible stripe down Bear Claw. It seemed like when it was groomed in one direction that the surface was tilled over to create a fine powder of ice crystals. In the other direction, the surface tilling did not work so well, leaving stripes of hard ice along the way. It did not really matter much, as there was very little turning required. By this time, before we had completed 1 run, it was obvious that today was going to be a "Super G" type of day.

Lower Bear Claw into Lower Wildfire was really nicely groomed. The machine groomed loose granular was approaching packed powder, which makes sense given the amount of snow making that has taken place on these two trail segments. Mary and I both agreed that our fears of 'One and Done' were unfounded. So we took the quick boost up the working Sky Burst quad for another pass at Bear Mountain.

This time we took Wildfire all the way. The combination of Upper and Lower Wildfire was clearly the run of the day. If you ignore boredom, Upper Wildfire was groomed flat from edge to edge and filled with packed powder. Quite literally, you could just let the skis rip down the trail, only making turns when necessary to keep speed in the comfortable range. We did this loop 3 times.... it was really nice.

As is often the case when you work at a resort, we only had a couple of hours out on the slopes. From Wildfire, we looped over the Cruise Control, Sky Lark and Bittersweet. Cruise Control took away the boredom, as lower Cruise was not groomed. The bumps were small, and firm (not hard). Skiing it a speed was not a serious problem, but unlike some of the other flat groomed trails, you did need to pay attention.

All in all, we were very happy with what we saw on the mountain today. While I would like a lot more variability on the trails to keep things interesting, recreational skiers will find plenty of well groomed open terrain at the Killington Resort to challenge all abilities. And given that we had shiny, clean, cars on Tuesday afternoon, all we can say is Kudo's to the mountain operations people at Killington for a nice morning of skiing at the resort.

Let it snow!!!