Wednesday, Feb 22, 2017
Beautiful late winter day at Killington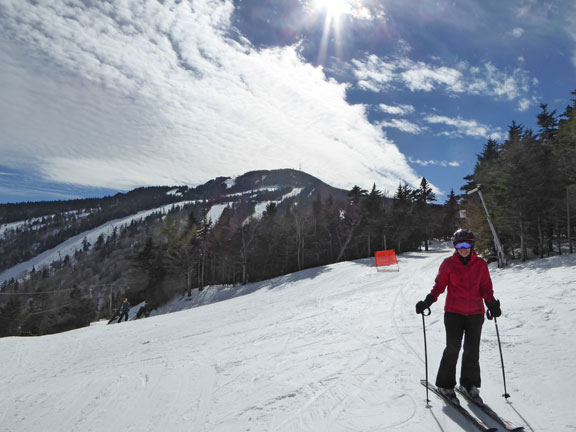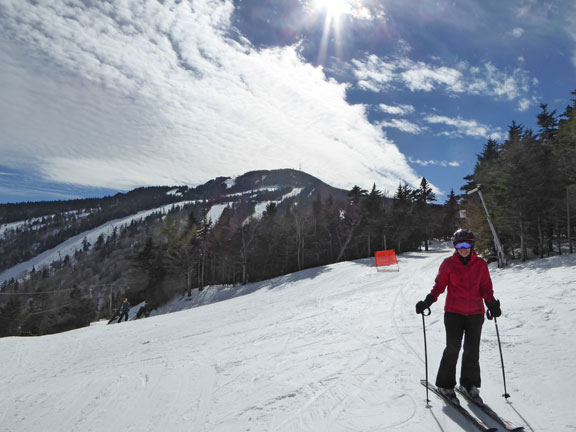 You don't get many days like this every year.

Today was just a beautiful day to be out on the slopes of Killington. Skies with intermingled between high cirrus clouds, bright blue sky, and brilliant sunshine. Temperatures were in the mid 40's. Ski surfaces were soft and silky. It was just a nice day to be on the mountain.

We took a quick jaunt around the mountain this morning before heading back to the inn to do our Presidents Week tasks. Parking in the Vale lot, our first run was down Caper from the Rams Head Lift. A (oxymoron) quick trip up the Snowdon Quad found us on Bunny Buster. We crossed in front of the K1 Base lodge heading to Supperstar next.

Off of Superstar, we circled around Skye Peak for a run down Skye Burst to Dream Maker to Cruise Control. Conditions at Bear at 11:30 AM were very soft. Cruise Control, Needles Eye, and Bittersweet were slightly firmer, as they do not face directly south into the sun.

After a couple of laps on the Superstar Quad, we cut back across K1 for a leisurely ride up the Snowdon Tripple. (It was just too nice a day to be stuck riding in the gondola.) A couple of loops throught the canyons as the Canyon Quad was running and we were done for our morning excercise.

Enjoying the mountains on a late winter day is just a beautiful way to get some exercise, some fresh air, and to leave the world in our rear view mirror for a few hours. I highly recommend it.

Where ever you may be, get out and enjoy the winter season. And remember...Let It Snow!