Tuesday, Feb 28, 2017
We interrup this winter with a brief fling at spring.
Killington Resort continues stockpiling snow for a long spring season.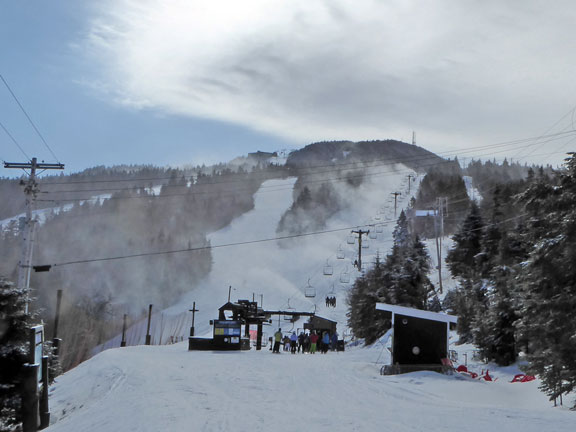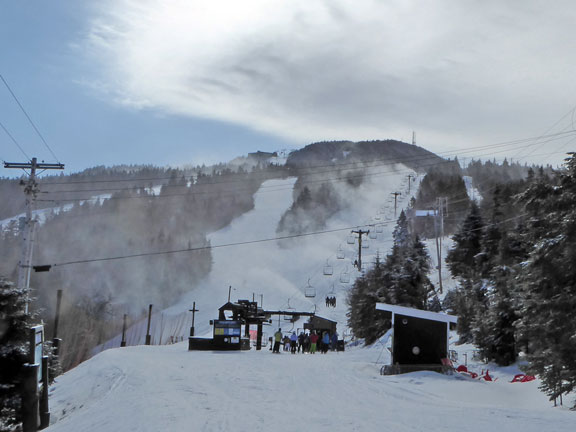 I expect to see the King of Spring make an appearance on the slopes of Killington any day now.

Over the last couple of days, an unusual stretch of warm weather has given ground back to winter. Seizing the opportunity, the Killington Resort fired up it's snow making system to once again add to their stockpiles of snow. While the warm weather of the last few weeks has cut into the overall base depths on trails around the mountain, skiing and riding conditions are holding up quite well given the resorts attention to snow making during cold stretches and their grooming fleet.

Yesterday snow making was taking place across the mountain. High traffic areas where some trails cross were getting the full treatment. And while some expert terrain was also under the snow guns, in homage to the many skiers and riders who visit Killington during the spring, the resort was seriously blowing snow off of Killington Peak through Snowden in the North Ridge Area and all along Great Northern. By building up base on those trails, the resort will be able to offer beginner and intermediate terrain well into the spring skiing and riding season.

On our skiing adventure around the mountain, we visited most of the peaks. Rams Head was well covered, with Swirl and Easy Street skiing edge to edge. Yodler back to Snowdon had some thin spots showing, but they did not require a high level of attention to avoid. Snowdon down Chute and Bunny Buster were skiing well. Great Bear and North Star had some thin areas where the ski patrol was putting out bamboo warning stakes.

Off of Killington Peak, the Canyon was in good shape. Rime and Reason were seeing some snow making love. East Falls was machine groomed granular with good coverage and edge control. Cascades and Double Dipper looked in good shape. Down Draft on the other hand did not look enjoyable.

Bear Mountain was becoming beach sandy at the bottom of Sky Burst and Wild Fire. Cruise Control and Needles Eye were will convered but becoming thin. A snow storm for these trails is definitely needed. Bittersweet, Sky Lark, and Superstar all were skiing well. They will be in service for quite a long time as base depths are fairly robust.

Overall, skiing was very good. We have another 2 day warm up in store for Wednesday and Thursday followed by winter weather returning for the weekend. March is usually the snowiest month of the year in Killington. Keep your fingers crossed.

Where ever you may be, get out and enjoy the winter season. And remember...Let It Snow!