Tuesday, Mar 14, 2017
March dump in progress. Killington being buried.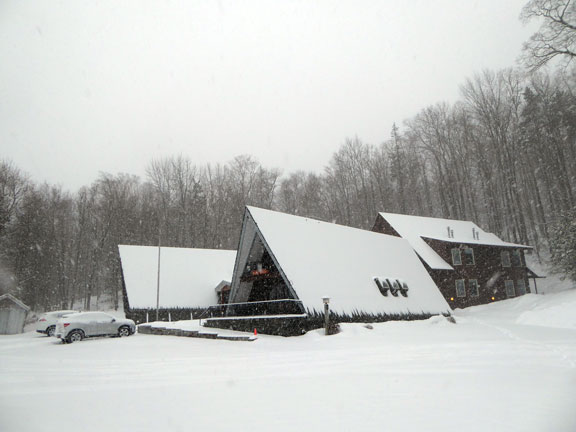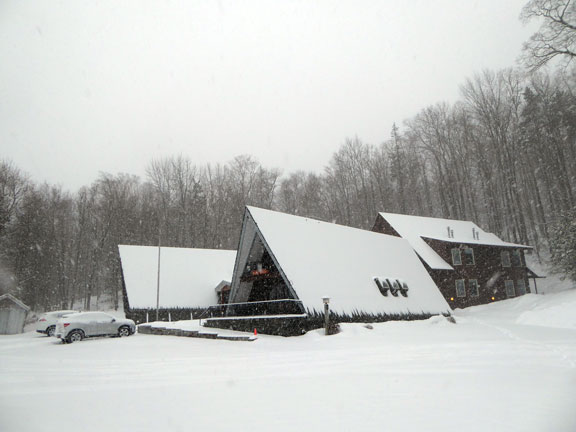 5:00 PM Update Blowing and drifting snow continues. Snow accumulation over the last 3 hours was approximately 1 1/2 (Snowstake at 13 inches versus 2:00 PM report of 11 1/2 inches). Radar from weather.com indicates that Killington has been ain a dry spot in the storm for several hours which probably accounts for the decrease in accumulation. Winds in the area are picking up resulting in significant drifting. Around the inn there were several drifts over 4 feet based upon how high they were over the cowling of the snow blower (3 feet).

In the interest of safety of our staff and guests, we have decided to close the restaurant at Birch Ridge for the evening. We will resume regular dinner serice tomorrow evening, Wednesday March 15th.

Get some sleep. Tomorrow is a powder day! End 5:00 PM Update

2:00 PM Update

Snowfall is quite heavy and accelerating over Killington. Approximately 6 inches of snow has fallen over the last 4 hours. The snowstake increased to 11.5 inches at 2:00 PM from 4 inches at 10:00 AM.

While taking the 2:00 PM pictures, the heavy snow was turning granular in consistency. Not sure is some warm air is overriding the system, as I do not have a temperature reading, but the snow flakes seemed denser than what I experienced at 10:00 AM this morning. Snow is predicted to continue all evening and into the day on Wednesday. Stay tuned to killingtonblog.com for snowstake updates.
End 2:00 PM Update

Original 11:00 AM Post All week long, people around town have been very careful not to jinx it. With great respect for Mother Nature, when a huge dump is predicted for the mountain, caution is exercised when speaking in public. For their part, the resort just ignored the pending snow and continued their all out snow making assault as if nothing was going to happen. But it has!

At about 6:30 this morning, light snow started to fall across the area. By 10:30 this morning, the snow had accumulated to 4 inches at the snow stake. Snow is coming down very hard and is predicted to continue for the next 18 hours of so.

If you are planning to come to Killington, now is the time!

Where ever you may be, stay safe during the storm, and get out and enjoy the winter season. Let It Snow!