Monday, Apr 10, 2017
Spring sweeps over Killington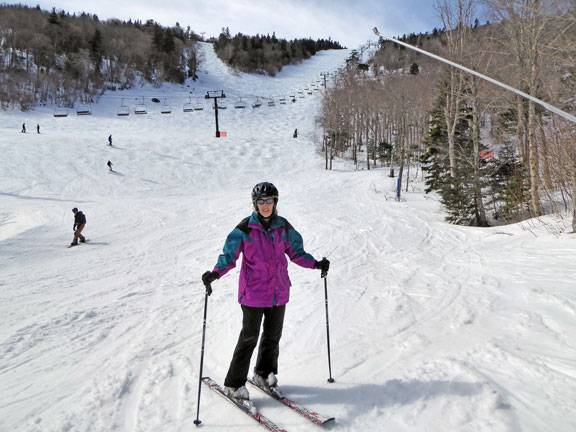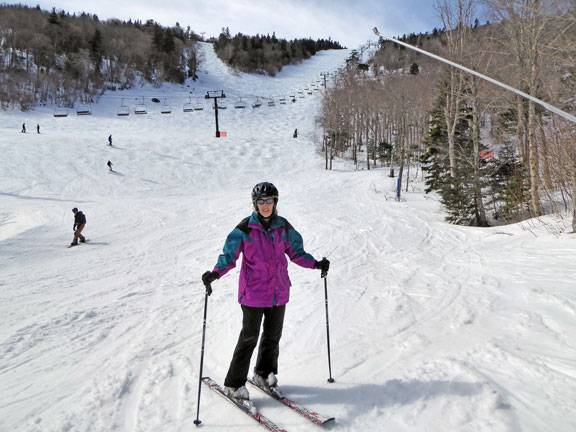 The windows are wide open in the office. I went, unsuccessfully, hunting for a pair of shorts earlier this afternoon. Spring has arrived at Killington.

When we departed the inn this morning, at 8:50 AM, the temperature under sunny skys had already reached 58 degrees. Even with just a vest, a turtle neck, and a shell for pants, I knew it was going to be a warm morning on the mountain. And it was glorious!

Consistently soft snow, bumps of all sizes for all ability levels, bright sunshine, a nice warm breeze, and lots of friendly people.... Mid winter powder storms are great, but as the season winds down there are special places for warm spring skiing days as well.

We spent our few hours on the slope staying over in the Killington Basin side of the resort running the K1, Canyons, and Snowshed quad lifts. While the box at K1 was efficiently in moved us from the K1 base lodge to the peak of Killington, sitting in the sunshine on the quad lifts was much more satisfying.

With temperatures approaching 60, ski surface conditions were uniformily soft. Some trails which had substaintial skier traffic like Double Dipper and East Fall were puckered up with bumps. Others where traffic was non existent, like Chute under the Snowshed quad, were beautiful soft cruisers. There can be no complaints on a day like today.

While todays warm temperatures will cause surfaces to melt, the Killington Resort is covered in feet of snow on the major trails, the result of a season long snow making campaign. Mother Natures warm spell this week might take out some of the tree runs around the resort, but there is a lot of skiing and riding to still be had on the slopes of Killington.

The snow season has not ended here in Killington. So...Let It Snow! is still an appropriate salutation. But with the Masters golf championship at Augusta already in the can, I won't fault you if your pursuit changes from snow balls to golf balls over the next few weeks. What ever you pleasure, please do not forget your sunscreen.