Friday, Sep 29, 2017
Fall has arrived at Killington as cold air invades the area.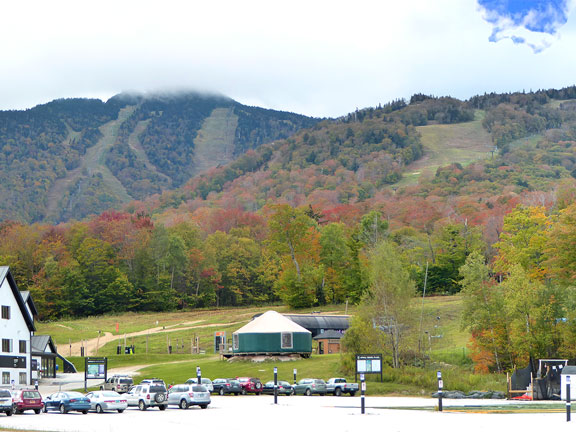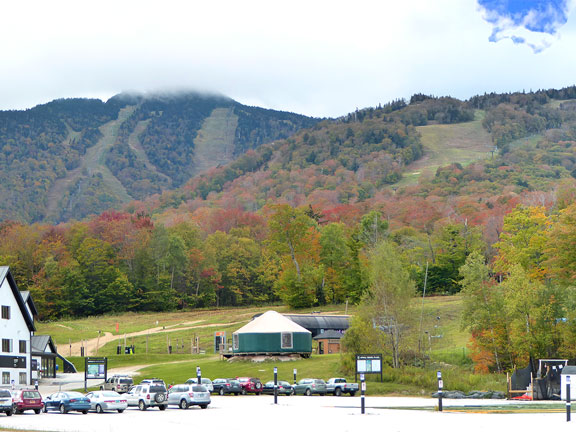 The beginning of this week brought some of the warmest days of the year to Killington. For a town which thrives on the cold, it was not pleasant in the least (and I am being kind). All is now right with the Killington world again as a weather front with luxurious, cold, crisp air from Canada has settled over the region. Fall has finally arrived. "Bring a sweater".

Colors on the mountain tops around Killington are brightening up. The warm temperatures of the last several weeks slowed the progress slightly. But Mother Nature will not be fooled by temporary weather events when it comes to the leaves changing colors in the Green Mountain State. A couple of days of cooler tempertures with moderating sunshine will catch the progress of fall right up to its normal pace.

On Killington itself, the base area is showing nice color. Not all of the trees have started to change in earnest, so the color profile spans the gamut from summer greens to fall reds, with some yellows and orange thrown in for good measure.


Color around the inn in the Killington basin area is following the same pattern. Many of the trees behind the inn are engaged in the process. Colors are becoming more pronounced each day.

This weekend at Killington brings the annual Killington Brew Festival at the Killington Resort. If you like your suds, this is a great time to sample many local Vermont brews.

With Fall Foliage season fully underway, the restaurant at the Birch Ridge Inn will be open nightly for the next 2 weeks (including Sunday and Monday evenings) to service fall guests to the area. Stop in and enjoy some cider at the bar when you visit the area.

Where ever you may be, get out and enjoy the fall season. Keep it in the fairway.....and start making plans for winter... it will be here before you know it!