Monday, Dec 16, 2019
Christmas Trees up, let the holiday celebrations begin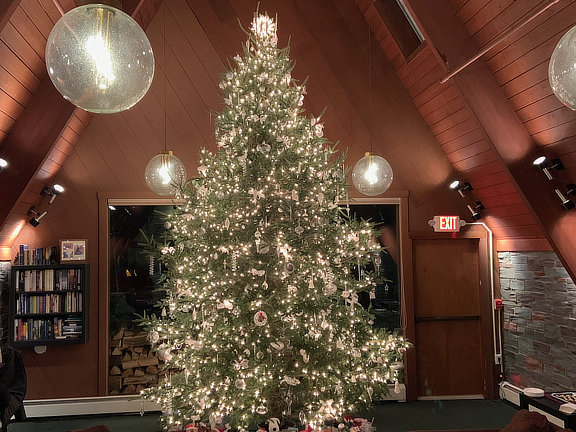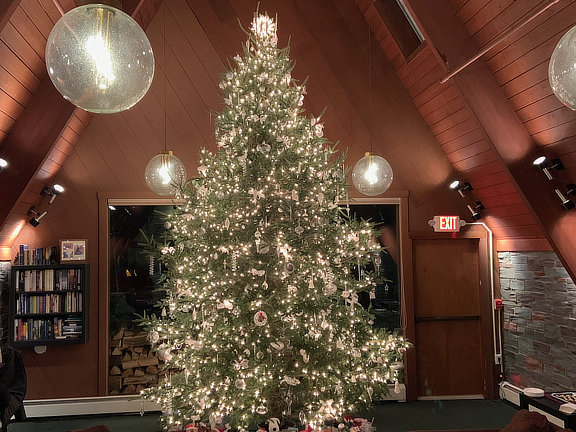 Christmas is coming fast. With one less week between Thanksgiving and Christmas, the holiday season is on us quickly this year. Hope you have your shopping done!

This weekend we got together with friends who participated in our annual Christmas Tree Monday. When we harvested Christmas trees this year, in addition to the large tree we got for the Birch Ridge Inn, the group of us also got 5 additional trees for friends (and thier adult children) who live in Killington within walking distance of the inn. Since the completion of the World Cup, everyone has been decorating their trees to get ready for the holidays. Between multiple trips to various hardware stores and internet web sites, and laser light shows in front yards, the rush to decorate for the holidays for family, friends and guests has been in full swing. Last night, we got to view each others work with a Christmass tree stroll to each others homes to view the trees, enjoy some refreshments, and celebrate the holidays.
First stop was at Birch Ridge for cocktails and appetizers. For starters, we served spicy shrimp wrapped in bacon, and Duck breast waffles with cranberry drizzle. After a few adult beverages we were off to our next stop.
Next stop was to Peter and Ellen Smith's house for more refreshments and appetizers. Peter and Ellen own the Forerunner Ski Shop, where many of our inn guests go for equipment during their stay in Killington. Their son, Brian, now runs the shop as Peter has "retired". Put even though he has retired from day to day at the shop, Peter still enjoys keeping things in order. For instance....
Peter and Brian have been having a great time these last couple of months refurbishing an old Killington gondola cabin. Brian mounted it in front of the Forerunner several weeks ago. Peter, inspired by the holiday season, comandeered the gondola cabin turning into a sleigh for Santa, complete with tiny lighted reindeer to pull Santa on his way. We could not resist on our stroll last night not stopping to have our picture taken with Santa.... There is a little kid still left in each of us.
Between the Smiths and the Forerunner, we stopped at the Alberts for some soup and salad. Ed was functioning as mixologist creating a new cocktail with his favorite spicy gingerale. It went down really well, and my head did not hurt too much this morning. As they say... Happy Holidays!
The final stop of the evening was to view the Mercier's Christmas tree, share some dessert(a delicious Red Velvet Cake) and share a night cap.

Holiday traditions make the holidays real. Every year for the last 22 years, Mary and I have also been working to get the inn just right to greet our holiday guests. In addition to decorating the inns Christmas Tree, Mary has been busy putting out decorations all around the inn. I have been working with the Chef to develop the holiday menues. Our Christmas menu is now available for viewing online.

For holiday dinners this year, we will be serving at the inn on both Christmas Eve and Christmas night. Reservations for either evening are recommended, especially for the dining room at the Inn. We will also be serving the same menu at the bar in the Great Room if you would like a more casual setting.

Also, while at the inn, take a few moments to register for this years Christmas Tree contest. This year Mary has created a contest where you guess the total number of Christmas Ornaments and Bows she put on the tree. The winner, who guesses closest or equal to the number wins a dinner for 2 at the inn.

Wherever you may be, we hope your holiday season is joyful. We look forward to a happy holidays at the inn with lots of snow on the montain for people to enjoy. Stop in for a visit if you are in K. We will be happy to take your picture under the tree. Let It Snow!